Three of our cabin accommodations include a hot tub to relax in during your stay. Hot tubs are not available during the month of May, however, they are reopened during the month of October.
All but two of our accommodations are right on the banks of the Eleven Point River.
Excellent fishing opportunities right outside your back door.
Remote setting for you to unwind, disconnect, and enjoy the sounds of nature.
Pets are welcome with a small fee and must be kept on a leash at all times. There are neighboring dogs in the area.
Convenient river float outfitters service. Come & experience the fun.
There's only one indoor fireplace located at the Hilltop Lux Cabin. However, every location has a fire pit for a good campfire.
General store for snacks, merchandise, and everything you might need for your float trip. There's a boutique located inside the store called "Lynn & Lou Boutique".
Riverfront Accommodations
OUR ACCOMMODATION OPTIONS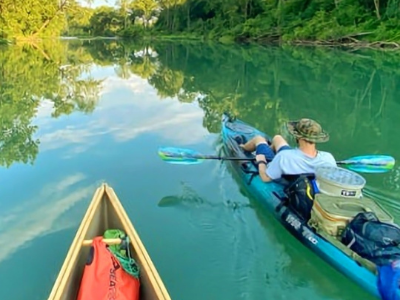 About this Space: This is a gorgeous campsite to bring your own small RV or tents with electric, water, and sewer hookups. There's also an outdoor toilet and shower located at this site. This is located right on the beautiful Eleven Point river which is great for floating, kayaking, canoeing and fishing.. easy access for […]
Details
Prices start at: $0.25 per night
The Shanty is the perfect little getaway for anyone ready to relax and enjoy some time together. The cabin is adorable, the location of perfect, and the relaxing River is Good For The Soul. It's become one of our favorite spots to unwind.
It's safe to book online with us! Get your dream stay in a few clicks or drop us a line with your questions.
var p = parent.window.document; fhScript = p.createElement('script'); fhScript.src = "https://fareharbor.com/embeds/api/v1/?autolightframe=yes"; p.body.appendChild(fhScript);